DETAILS DE L'OUVRAGE DE LA COLLECTION

Catégorie : Religion : Bouddhisme

Référence librairie : 5937

Titre: Central Philosophy of Buddhism

Auteur : T. R. V. Murti

Editeur : Allen et Unwin
Date d'édition : 1955
Date de dépôt des droits d'auteur : 1955
Informations sur l'édition : E.O
Reliure : D'éditeur cartonnée avec jaquette impeccable
Illustrations :
Isbn :

PRIX : -
- Si le prix n' était pas encore marqué, voire pour d' autres conditions reliées, nous contacter.
- Paypal, directement avec votre compte ou avec votre carte bancaire, permet de fractionner les règlements.
- Le Port en mode suivi est OFFERT vers la France Métropolitaine.


LE DESCRIPTIF EST APRES LES PHOTOS.

OUVRAGE DISPONIBLE : Oui.

Contacts pour Informations, Règlements fractionnés, Offres d'acquisitions, … :

Par e-mail

Ou Tél. : 02 98 72 87 19



POUR ACQUISITION ET REGLEMENT DE CET OUVRAGE :

• Virement bancaire, Chèque(s), Autres modes : nous contacter.

Une facture acquittée est adressée par e-mail ou avec votre achat.




Images: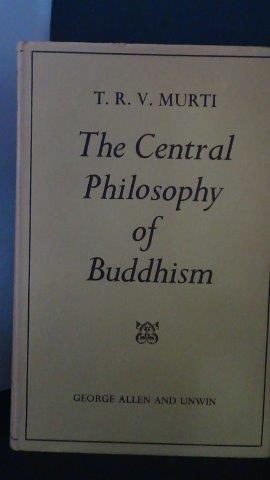 Descriptif de l'ouvrage :

Central Philosophy of Buddhism
Murti, T. R. V.
Published by Allen & Unwin, 1955
ISBN 10: 0042940338 / ISBN 13: 9780042940335
Synopsis:
"This book is perhaps the first sustained attempt to present Buddhism, its philosophy and religion, from the standpoint of Narajuna's Sunyata the Silence of the Middle Way." from the dustcover.
Bibliographic Details
Bibliographic Details
Title: The Central Philosophy of Buddhism
Publisher: George Allen & Unwin, London
Publication Date: 1955
Binding: Hard Cover
Book Condition: Very Good+
Dust Jacket Condition: Very Good
Edition: First Edition
George Allen & Unwin, London, 1955. Hard Cover. Book Condition: Very Good+. Dust Jacket Condition: Very Good. First Edition. 8vo - over 5¾" - 6'' Tall. This is a Very Good + Copy of this hard cover book in red cloth with gilt title lettering to spine,in a Very Good Dust-Jacket with some tape applied to strengthen the top edge of the spine.Not price clipped and this copy has NO previous ownership names or inscriptions present.The book was acquired from the Impressive private collection of Academic Douglas Lancashire,born and educated in China.His family came to England where he served in the R.A.F during the war.He then lectured on the philosophy of religion in Hong Kong and in 1962 he bacame Foundation Professor of Chinese and Head of the Dept of Asian Languages and Literature at Auckland University in New Zealand.He has written many articles and translated many works into English.Rare first edition in dust-jacket,8vo 372pp First Edition 1st Impression.