DETAILS DE L'OUVRAGE DE LA COLLECTION

Catégorie : Livres Modernes

Référence librairie : 2616

Titre: Bonjour Tristesse - Edition Originale Un des 200 exemplaires hors commerce sur corvol lorgueilleux. Envoi autographe : A Monsieur Roussel / sympathies

Auteur : Françoise Sagan

Editeur : Julliard
Date d'édition : 1954
Date de dépôt des droits d'auteur : 1954
Informations sur l'édition : E.O
Reliure : Broché
Illustrations :
Isbn :

PRIX : -
- Si le prix n' était pas encore marqué, voire pour d' autres conditions reliées, nous contacter.
- Paypal, directement avec votre compte ou avec votre carte bancaire, permet de fractionner les règlements.
- Le Port en mode suivi est OFFERT vers la France Métropolitaine.


LE DESCRIPTIF EST APRES LES PHOTOS.

OUVRAGE DISPONIBLE : Non.


Images: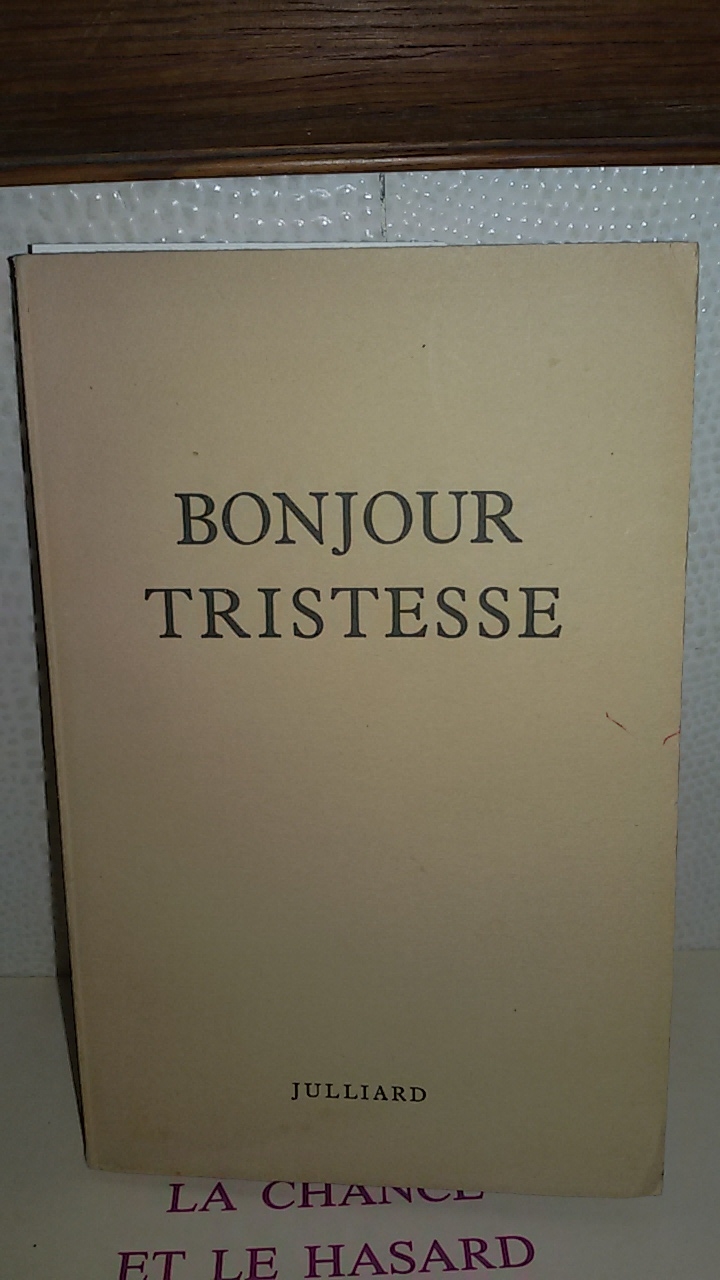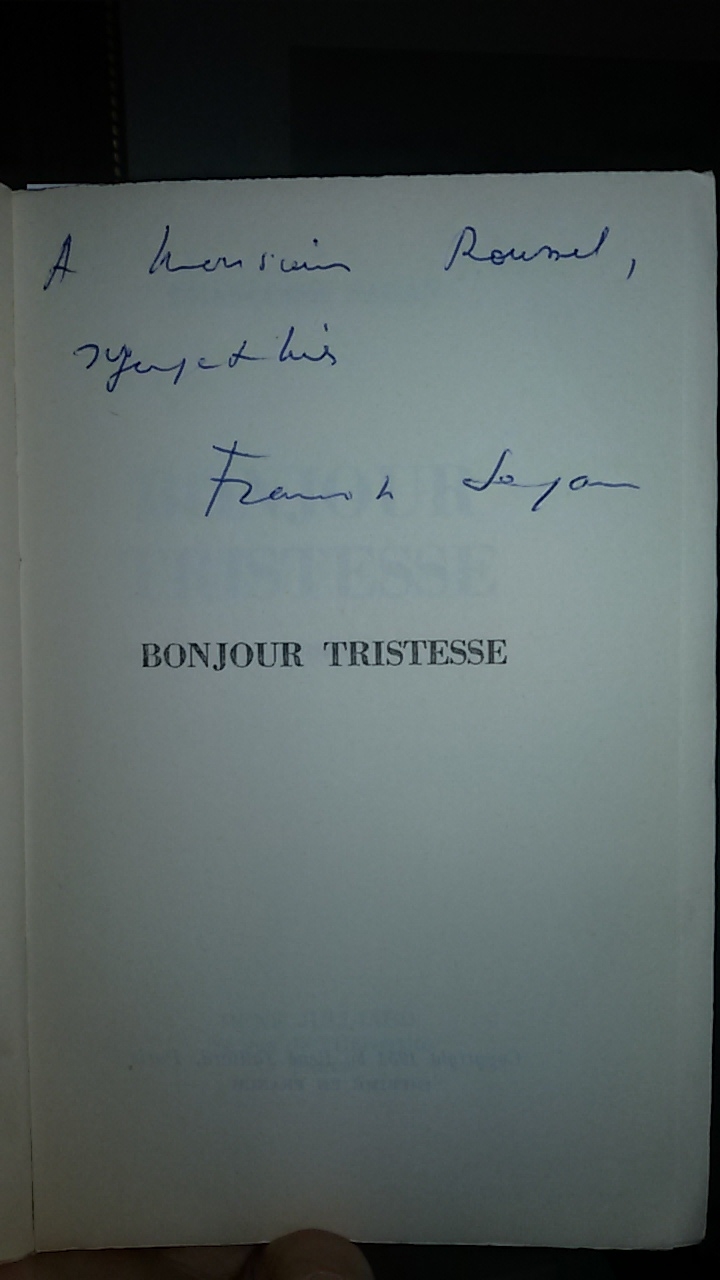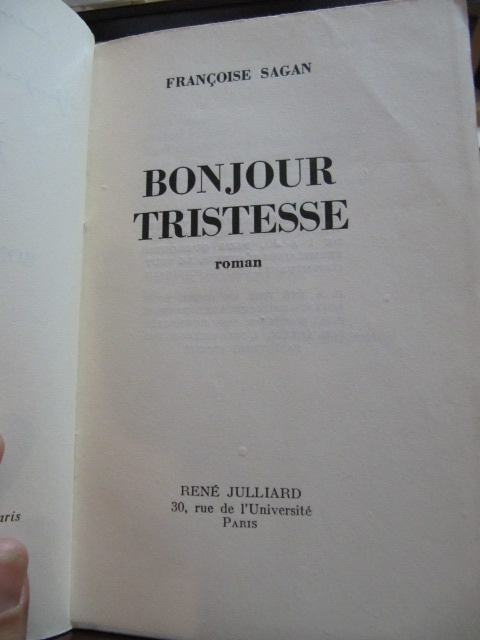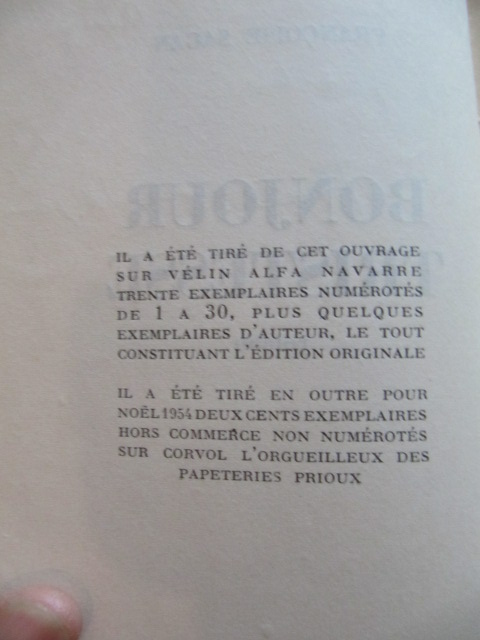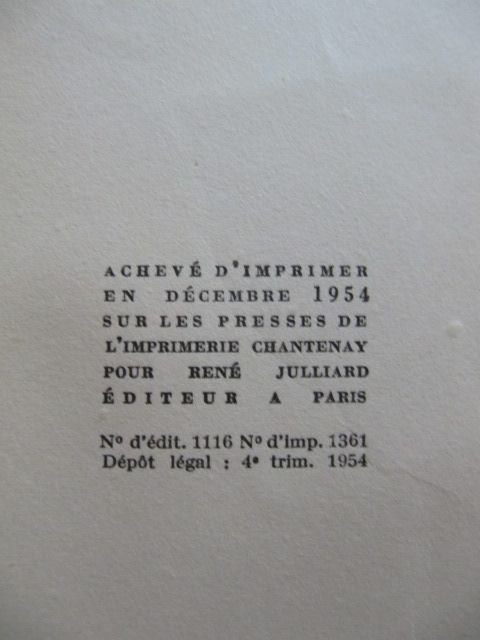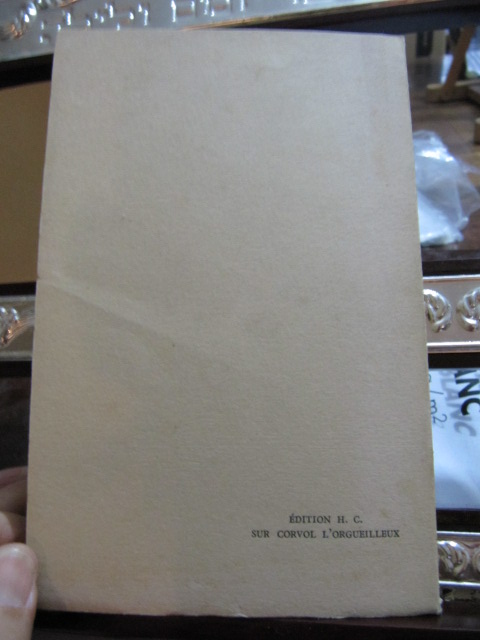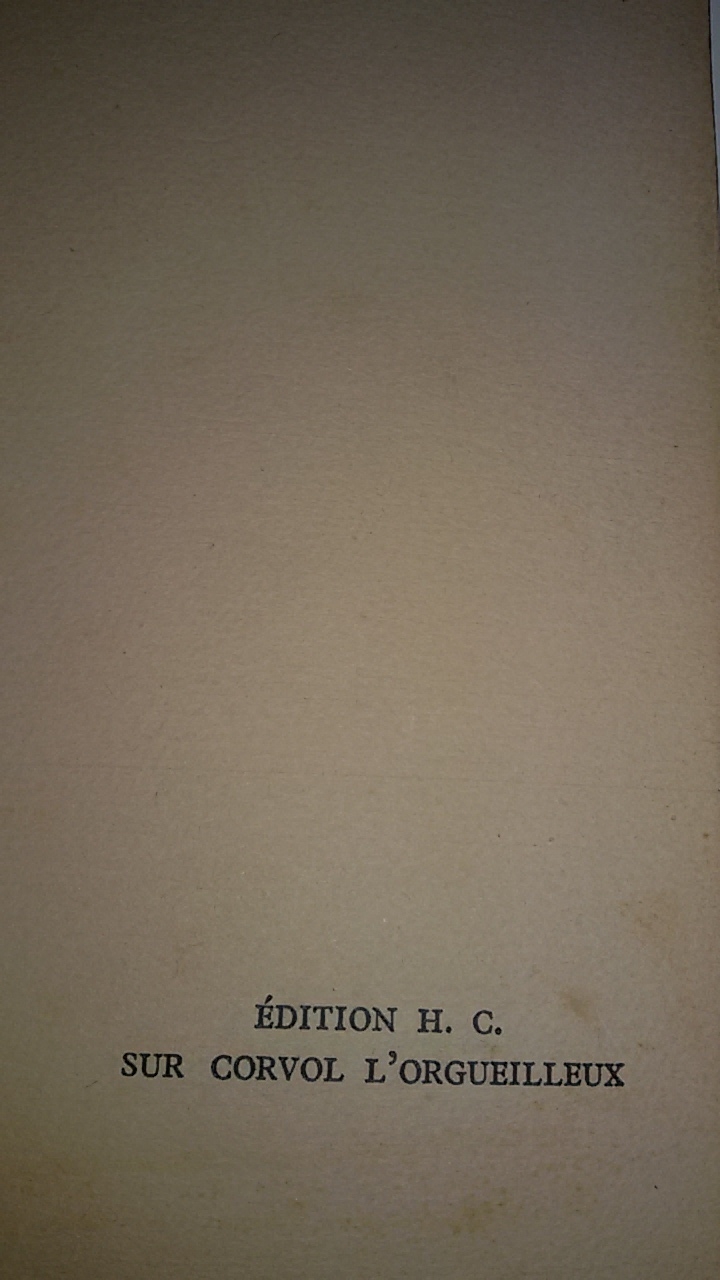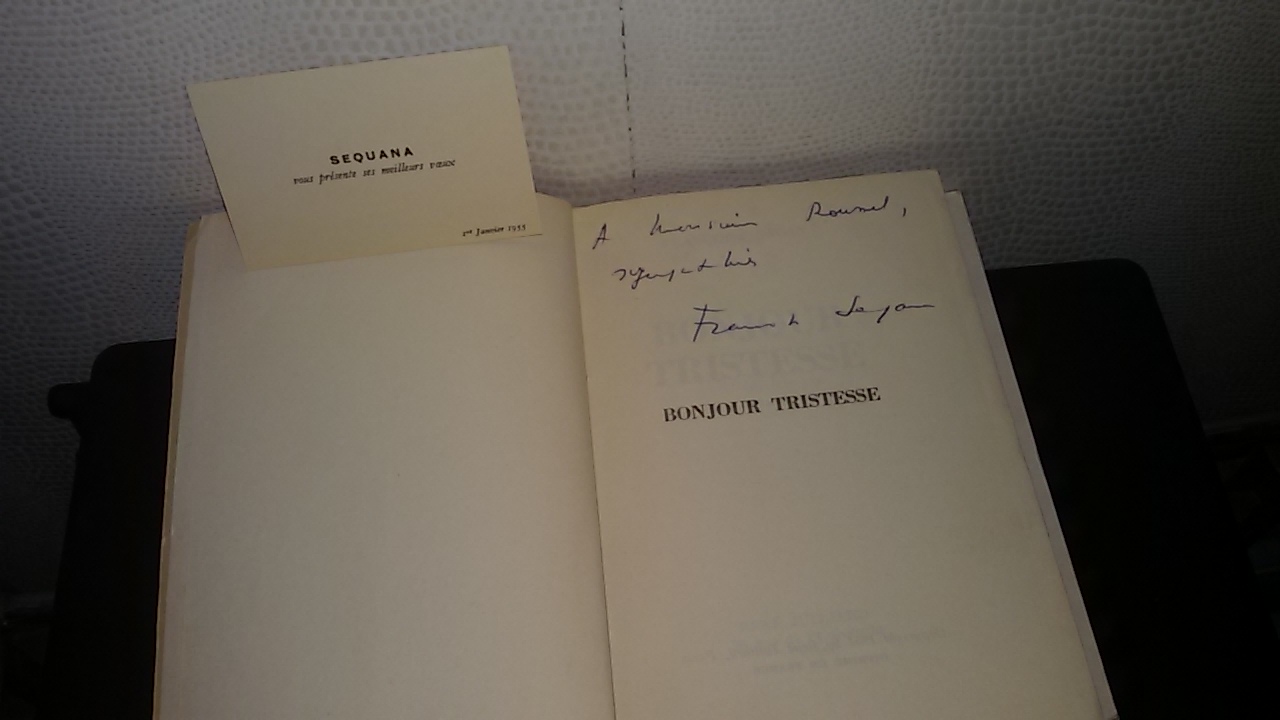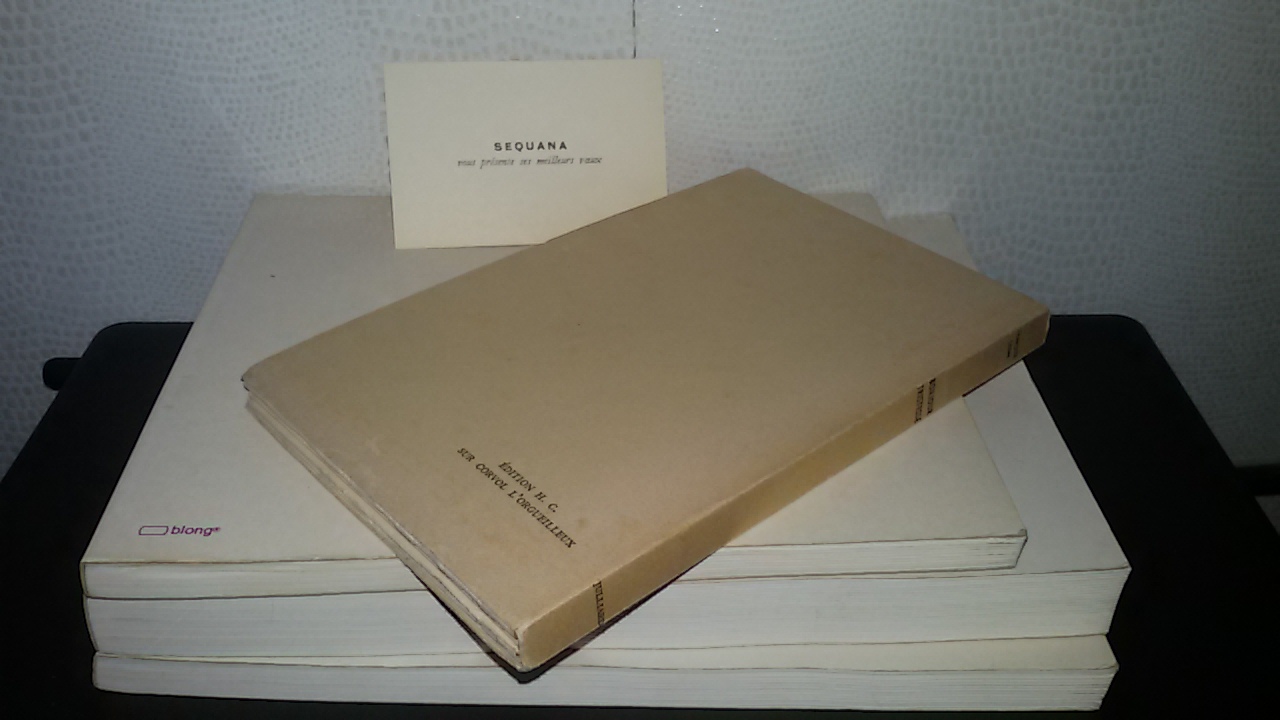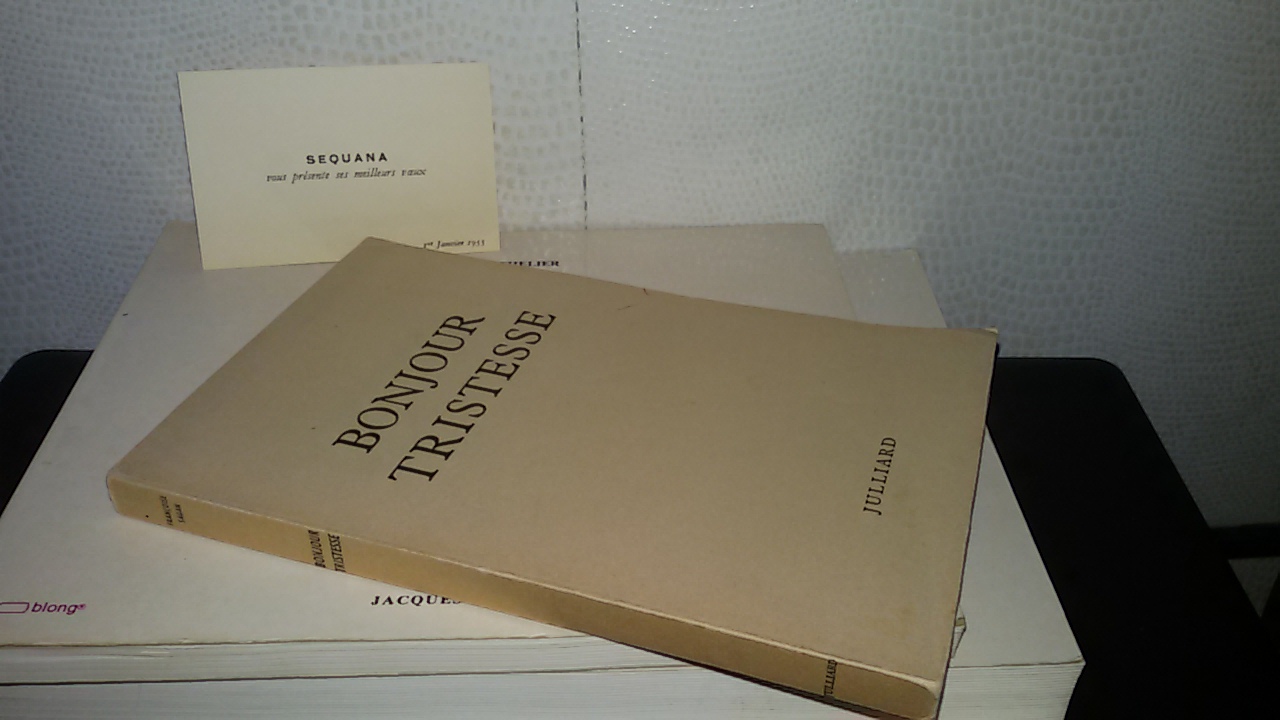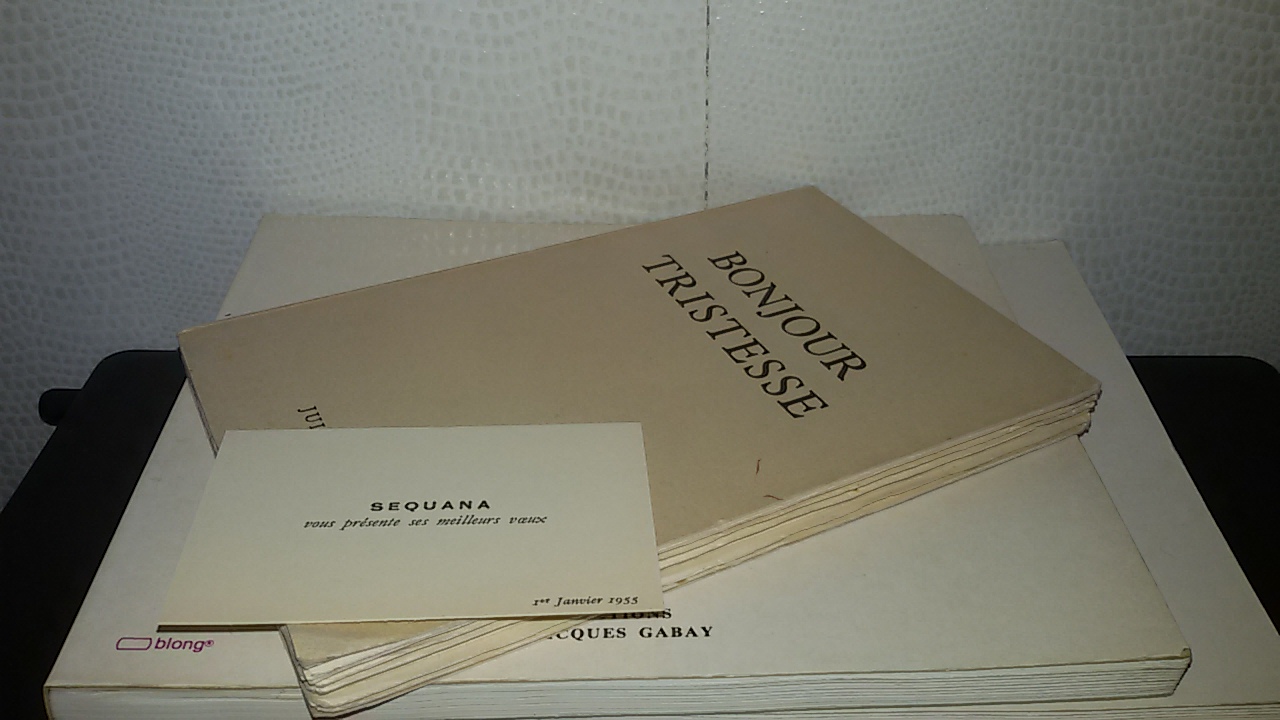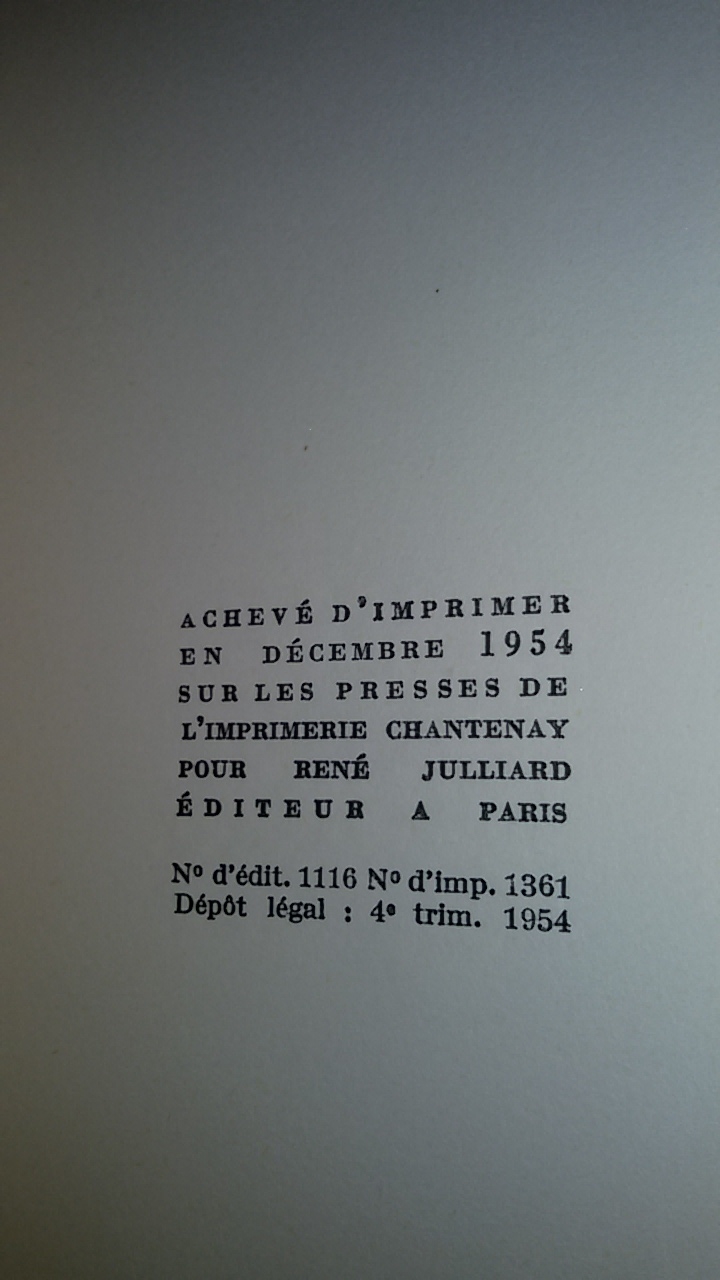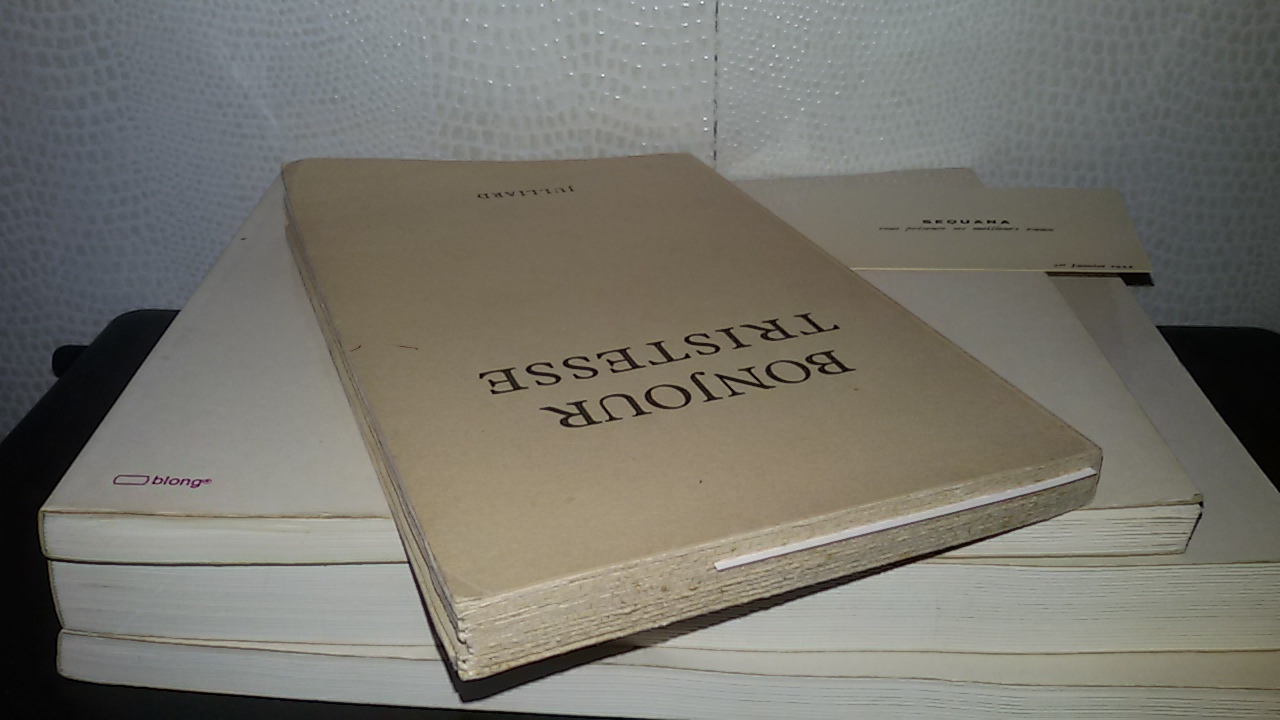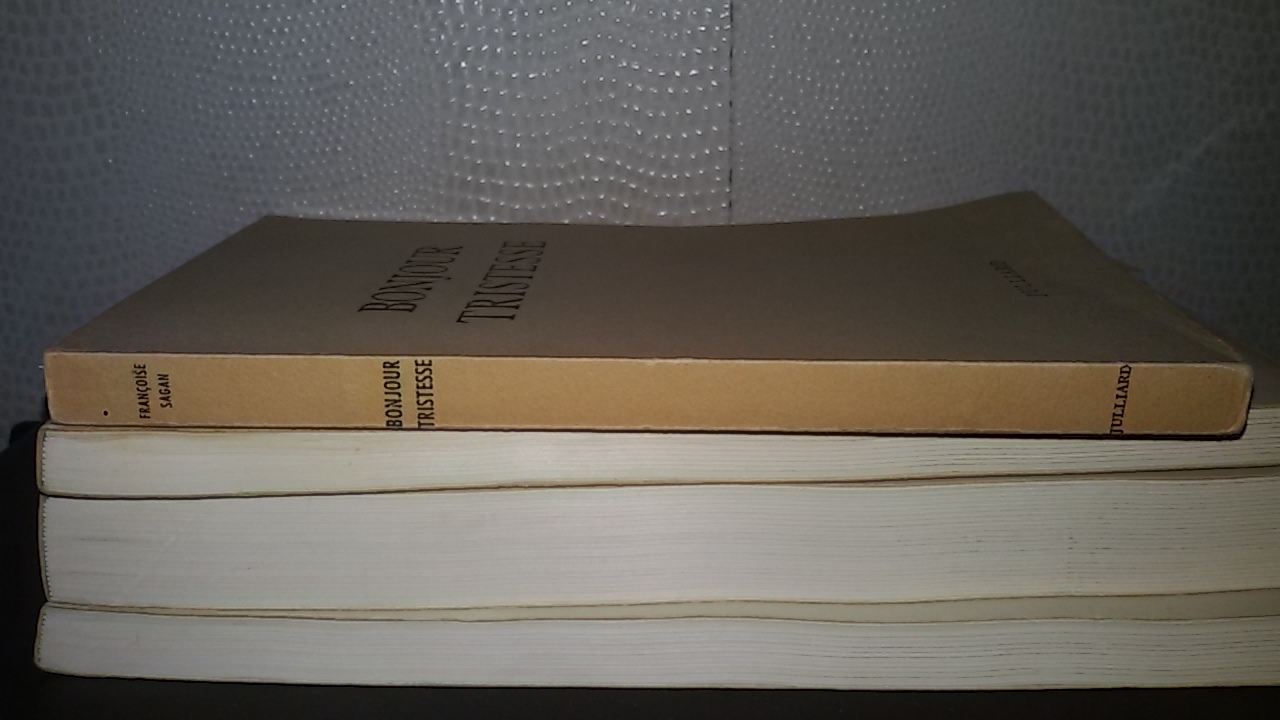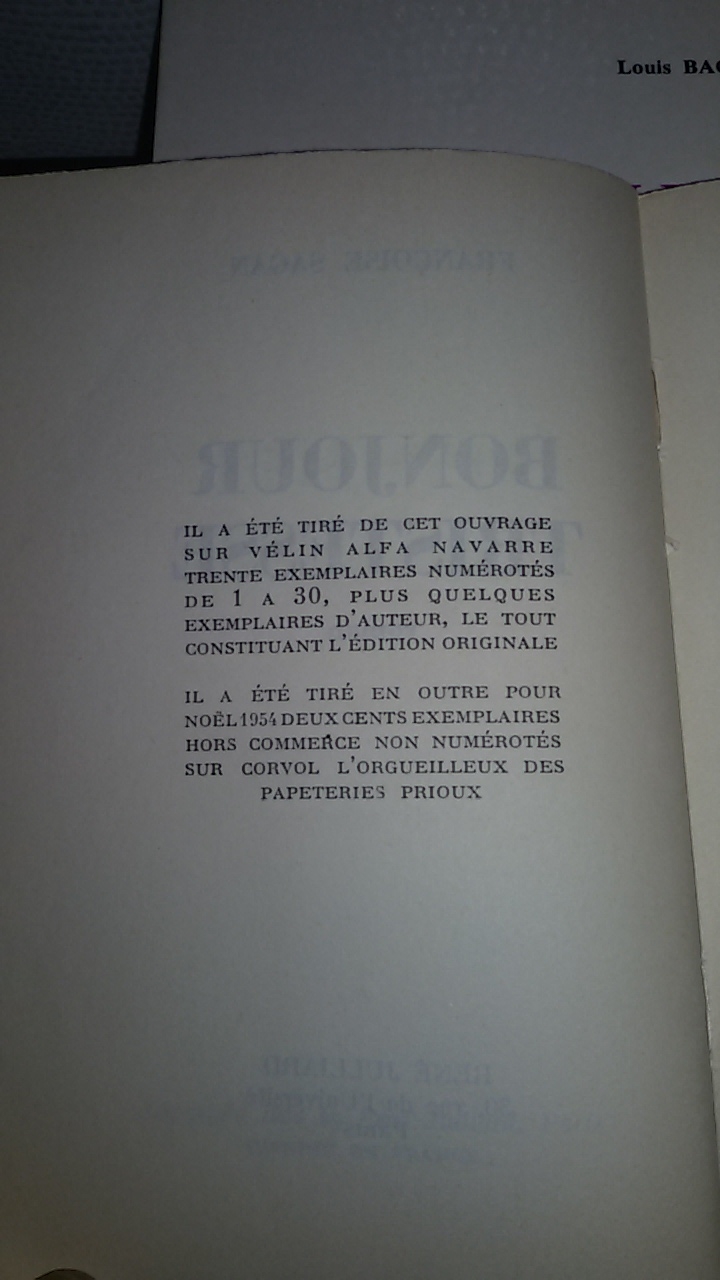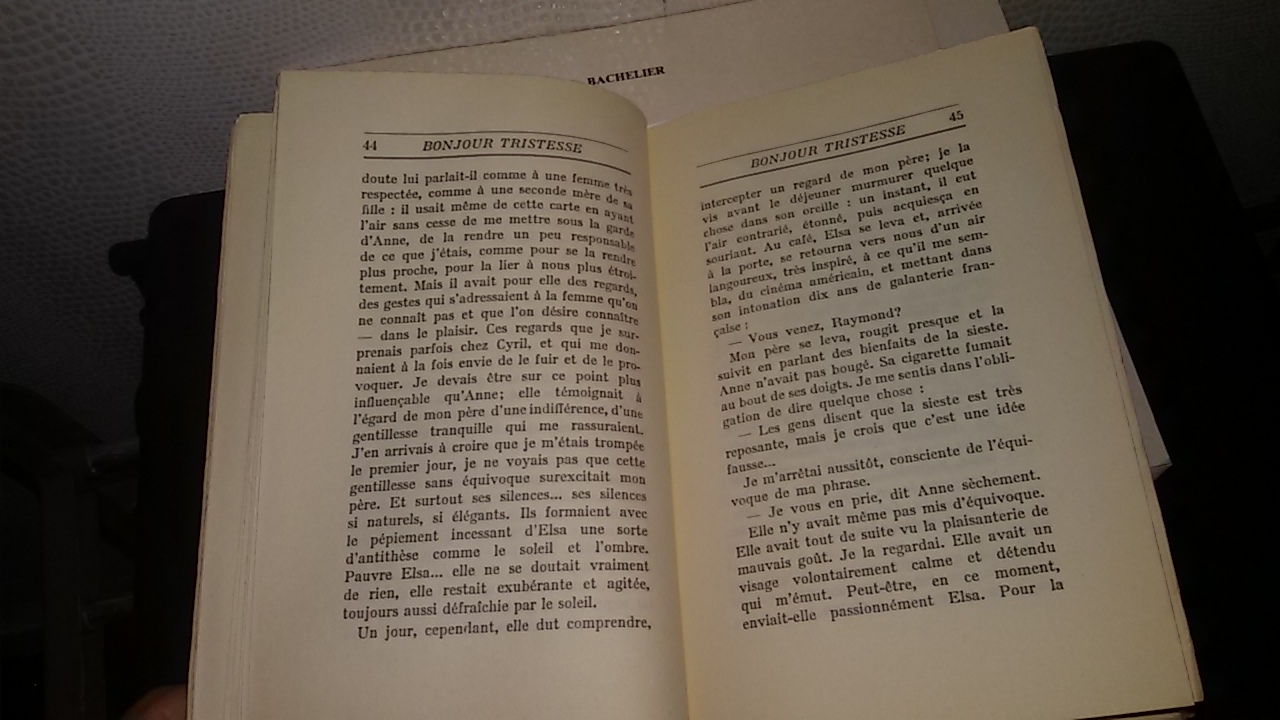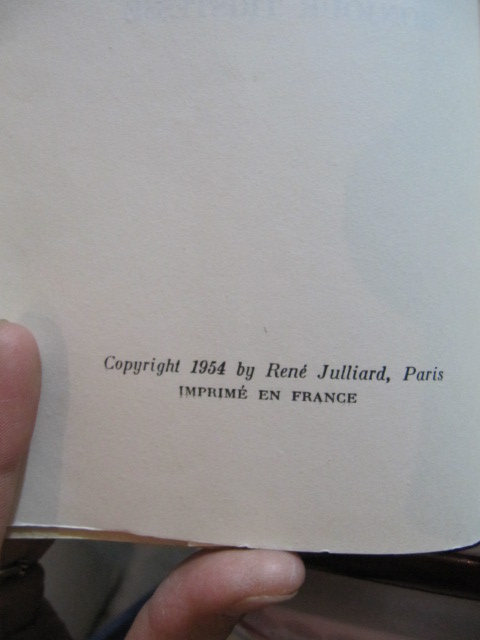 Descriptif de l'ouvrage :

Françoise SAGAN BONJOUR TRISTESSE Paris, Julliard, 1954, in-12 broché. Édition originale. Un des 200 exemplaires hors commerce sur corvol lorgueilleux. Envoi autographe: A Monsieur Roussel / sympathies /
Très bel état.

Françoise Sagan

Rene Julliard, Paris, 1954. One of 200 copies printed hors commerce on corvol l'orgueilleux paper, for the author's use, from a total of 230 of the author's first book, inscribed by the author on the half title, "A M.Roussel sympathie / Francoise Sagan", which is after the initial March 5, 1954 printing. Small 8vo; 188pp; original tan wrappers printed in black, fine. Francoise Sagan (1935-), wrote BONJOUR TRISTESSE, her first novel when she was just nineteen. Her youth combined with the sophistication of the novel's subject matter and language caused the book to become an international literary event. Masterpieces of Women's Literature remarks, "If Sagan had deliberately set out to write the book that would bring the greatest amount of fame in the shortest amount of time, she need not have done anything differently." It was an immediate bestseller and made its author famous in France and abroad. Since its appearance, Sagan's private life, with her addiction to painkillers, her penchant for fast cars and fast driving resulting in a near fatal crash in 1957, has fascinated the French public. Her work as an author, playwright and filmmaker has won her a quiet respect among her peers. In particular, her first two novels, with their evocation of an almost existential boredom in a middle-class milieu, using the vocabulary of polite everyday speech to describe nuances of emotion, evoking an apparently simple and transparent world, deserve critical attention. Taking her name from a character in Proust's A la recherche du temps perdu (in what is a not so subtle call to attention of her style of analysis of emotion contrasted with his) and the title of her first book from a poem by Paul Eluard, Sagan sought to put herself squarely on the French literary map - and beyond. Using literature to achieve the cult status of Elvis Presley and Andy Warhol, her work is, nonetheless, a strong commentary on popular culture. Although Sagan has publicly allied herself with some feminist causes, it is her work that speaks volumes in this area. Her character, Cecile, in BONJOUR TRISTESSE, transgresses all of the societal norms for women (at that time) and set the pattern for many of her subsequent characters. Yet these characters cannot be reduced to the "vamp" stereotype. Selected by John Updike a one of The New Yorker 50, this novel also won the Prix de critiques for 1954. Masterpieces of Women's Literature, pp. 83-85.