DETAILS DE L'OUVRAGE DE LA COLLECTION

Catégorie: Littérature (de) Céline

Référence librairie: 7571
Titre: CANNON-FODDER [SIGNED BY BILLY CHILDISH NUMBERED LTD EDITION] - Casse-Pipe Edition First E.O


Auteur: Louis-Ferdinand Céline


Editeur: Hangman
Date d'édition: 1988
Date de dépôt des droits d'auteur: 0
Informations sur l'édition: E.O Anglaise signée
Reliure: Broché
Illustrations:
PRIX / [ISBN] : 67€ (par Chq (1 à 3) – Virt – PayPal ) + 7 € Port en suivi pr la France Métrop.
Disponible : Oui. Contacts, Conditions - Prix du catalogue par retour, merci.🔗



Images: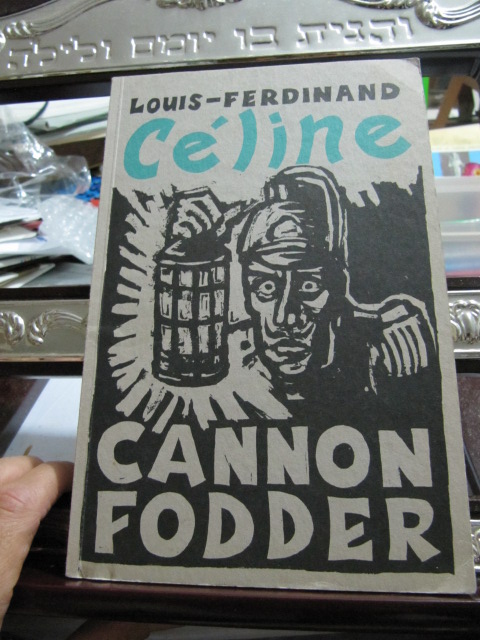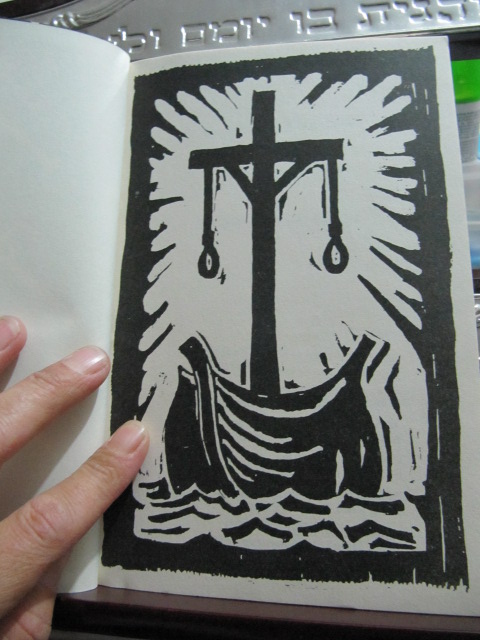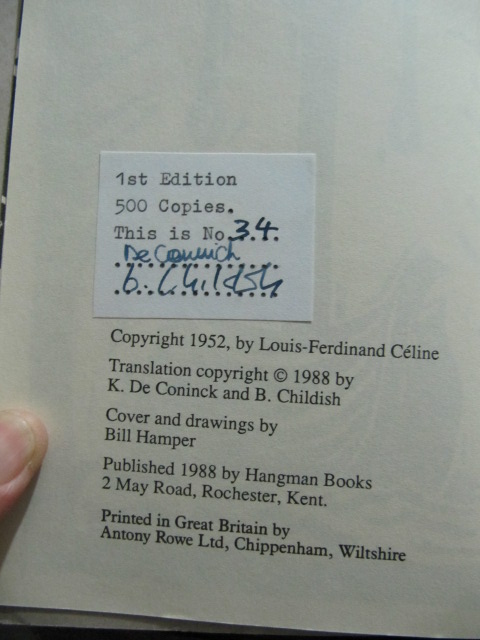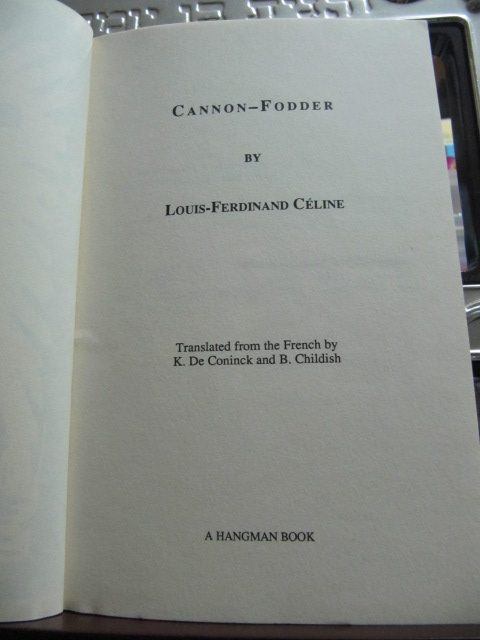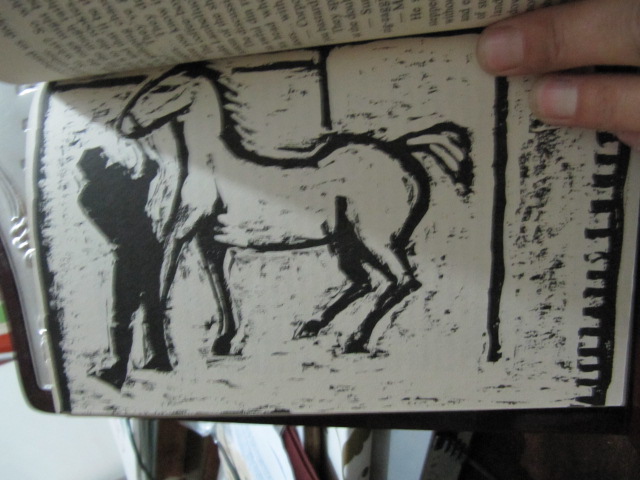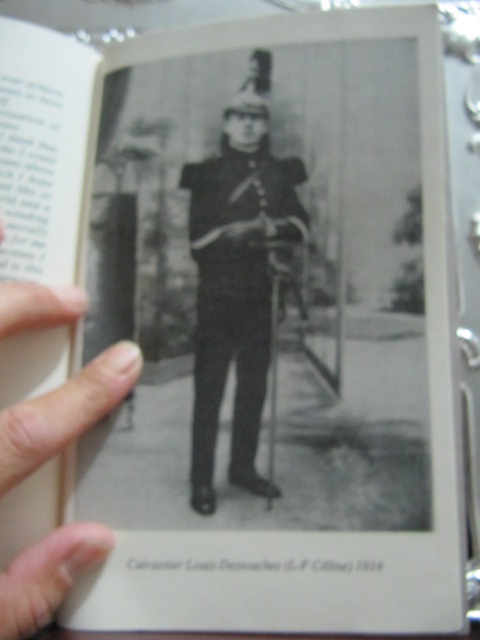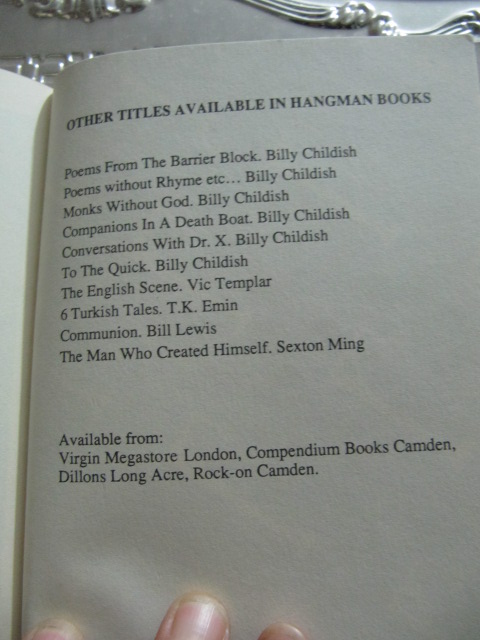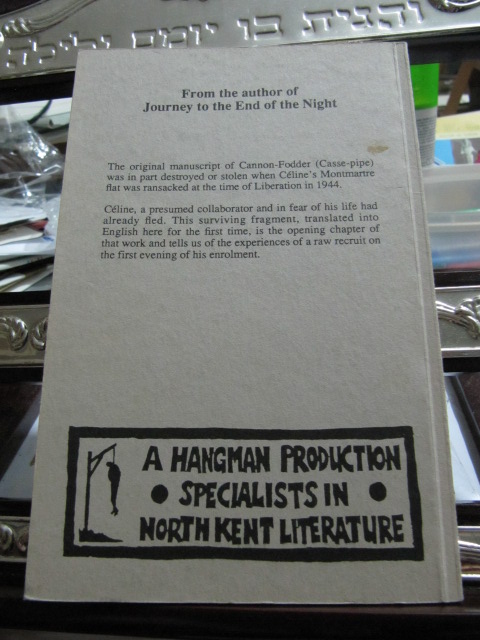 Descriptif de l'ouvrage :

CANNON-FODDER [SIGNED BY BILLY CHILDISH; NUMBERED, LTD EDITION]

Added value : Signed by translators , copy 34 of 500
Author(s) : Louis-Ferdinand Céline , translated by K. De Coninck and B. ChildishCondition
Used : very goodDimensions : 5¼" x 8"Edition : 1988 Format : PaperbackNumber of pages : 84 Publisher : Hangman
'The original manuscript of Cannon- Fodder (Casse-pipe) was in part destroyed or stolen when Céline's Montmartre flat was ransacked at the time of Liberation in 1944. Céline, a presumed collaborator and in fear of his life had already fled. This surviving fragment, translated into English here for the first time, is the opening chapter of that work and tells us of the experiences of a raw recruit on the first evening of his enrolment.'

The translators have left their signatures on the copyright page. One of whom is no other than the infamous Billy Childish fame. Yes, THAT Wild Billy Childish of Thee Headcoats and Tracy Emin fame. The text block is in excellent condition.
*
Signé par les traducteurs, copie 34 sur 500
Auteur (s): Louis-Ferdinand Céline, traduit par K. De Coninck et B. ChildishCondition
Très bon état - Dimensions: 5¼ "x 8" Edition: 1988 Format: Livre broché - Nombre de pages: 84 Editeur : Hangman
«Le manuscrit original de Cannon Fodder (Casse-pipe) a été en partie détruit ou volé lorsque l'appartement de Céline à Montmartre a été saccagé au moment de la Libération en 1944. Céline, collaborateur présumé et craignant pour sa vie, avait déjà fui. Ce fragment survivant, traduit pour la première fois en anglais ici, constitue le premier chapitre de ce travail et nous raconte les expériences vécues par une fraîche recrue le premier soir de son inscription. '

Les traducteurs ont laissé leurs signatures sur la page de copyright. L'un d'entre eux n'est autre que la fameuse renommée Billy Childish. Oui, LA Wild Billy Childish de Thee et de la renommée Tracy Emin. Texte est en excellent état.